About Emmanuelle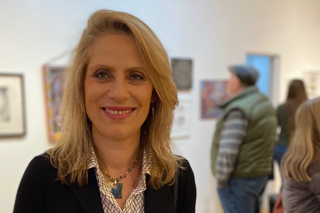 Emmanuelle Le Gal is the Creative Director at Dreamworld Design, her own design studio. She has helped start an arts association in Lynn Massachusetts called Galleries at Lynn Arts (GALA). Originally from Brittany, France, Emmanuelle came to Boston and studied at Massachusetts College of Art, focusing on a B.A. in Graphic Design. A practicing designer for more than twenty-five years, Emmanuelle began her career as a freelancer for Boston Magazine, Design Times, and Fox News.
Fine Arts has always been an integral part of her life and she has returned to her first love through Emmanuelle Arts. Painting brings her peace and offers her a place to meditate on the beauty in the world that surrounds us and to feel an immense gratitude while living in it. She now focuses on watercolors for their immediacy and simplicity.
Painting nature's most beautiful colors challenged her to grow her creativity and skills. This truly feeds her spirit. Light and shadow are essential components in her paintings. She loves to watch landscape shadows and shapes transform with the movement of the sun. She strives to create paintings that inspire beloved moments and capture treasured memories turning the everyday into a cherished occasion. She works from her own photography and each of her paintings has a story. Most of her inspiration comes from living in Massachusetts and the diverse breathtaking landscape of France, her country of origin. From scenes of France to her own backyard, her work offers a trip around the world.
Living in Lynn, Massachusetts with her family Emmanuelle is presently collaborating on an epistolary novel written by Jack Flowers told through florist receipts. This project incorporates her illustration and watercolor skills with her computer knowledge to create collages to illustrate this unique story.